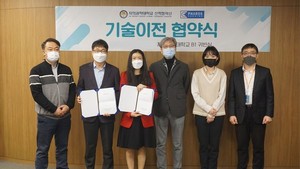 CHA University Professor Lim Dae-seog and his life science and bioengineering team have transferred their technology on treating Parkinson's disease using dendritic cells to Pharos Vaccine, a developer of cell therapy.
As part of the agreement, Pharos Vaccine will donate 1 billion won ($843,000) to CHA University's Industry-University Cooperation Foundation and CHA University Hospital in Bundang. In addition, the company plans to launch clinical trials in joint research in the United States and China, the university said in a press release Tuesday.
Moreover, by using immune-tolerant dendritic cells, the team at CHA University Bundang Hospital and Pharos Vaccine aims to treat various inflammatory immune diseases and incurable diseases, including diabetes, which have no specific treatments.
Dendritic cells are important messengers that can direct immune cells around the body.
When made to boost immunity, it can apply to cancer patients, and when made to show immune tolerance, it can apply to inflammatory diseases, autoimmune diseases and Parkinson's disease. However, researchers considered dendritic cells with immune tolerance to be ambiguous and difficult to identify.
The team was able to identify the cell through this study, which revealed that the protein marker Clec5a is specifically highly expressed in immunotolerant dendritic cells.
The research team expects that dendritic cells, which exhibit immune tolerance, will lead to a fundamental treatment for Parkinson's disease, a degenerative brain disease.
"As the aging population grows, research into degenerative brain disease becomes more important," Prof Lim said. "Research on the treatment of Parkinson's disease using immunotolerant dendritic cells is unprecedented worldwide."
Lim added that it would be a breakthrough in research into the treatment of Parkinson's disease, for which there is no suitable cure.
In addition to research on treating Parkinson's disease using immunotolerant dendritic cells, the research team has also treated acute myocardial infarction, myocarditis, a rare incurable disease, and rheumatoid arthritis, a representative autoimmune disease.
The results of the study were published in the latest issue of Circulation.