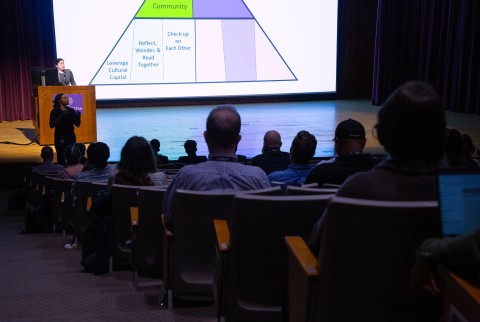 Popular Northwestern University TEACHx symposium, spotlighting innovative experiences in teaching and learning, returned to an in-person event this year. More than 200 faculty, graduate students, learning designers, and education technology specialists attended TEACHx 2022 last month at the Norris University Center to learn from their peers.
This year's theme was 'Reconnect', with a dual focus on teaching with technology and teaching for diversity, equity and inclusion. Dozens of experts from the Northwest and beyond discussed various teaching methods developed during the pandemic, including how remote and in-person teaching experiences have informed each other.
To kick off the day, neuroscientist Mays Imad delivered the keynote address, "Beyond Theory: Witnessing as an Act of Love, Resistance and Healing". In his talk, Imad discussed the power of knowledge and how understanding the neuroscience of toxic stress can empower instructors to self-regulate and help students cope, engage, connect and learn.
Imad is an assistant professor of biology at Connecticut College. She is also a Fellow of the Gardner Institute and a Senior Fellow of the American Association of Colleges and Universities in the Office of Undergraduate STEM Education.
Thesessions that followed Imad's speech included a mix of presentations, panels, workshops and pre-recorded videos. Topics ranged from mentoring in the age of the pandemic and video in the online classroom to designing flexible courses and creating a culture of digital inclusion and accessibility. The one-day event ended with a networking reception.
"As Northwestern moves away from distance learning, it is vitally important that we understand the student and faculty experience during this time," said Victoria Getis, director of teaching and learning technologies at Northwest Information Technology.
"The innovations we've seen will shape our 'next normal' for our classrooms, both physical and digital," she said. "TEACHx is also an opportunity to pay tribute to the incredible work our instructors have done under very difficult circumstances and to celebrate their achievements.."
One of this year's highlights came at noon when three instructors were inducted into the inaugural class of the Northwestern Canvas Hall of Fame. Nominations came entirely from students and fell into one of three categories: most innovative course site; Better use of conference videos/recordings; and Excellence in DEI/Accessibility.
Over 660 individual nominations were received for 360 instructors from the 12 North West schools. The winning instructors are:
Katie Gesmundo, Teaching Assistant Professor of Chemistry and Co-Director of the General Chemistry Lab, Weinberg College of Arts and Sciences, for Most Innovative Course Site
Ilya Mikhelson, Teaching Associate Professor of Electrical and Computer Engineering, McCormick School of Engineering, for the best use of lecture videos/recordings
Ray Noll, Affiliate Professor, SPAN Postdoctoral Fellow (2020-22) in the Gender and Sexuality Studies Program, Weinberg College, for Excellence in DEI/Accessibility
Organized for the first time in 2016, TEACHx takes place every year and is a collaboration between Northwest Information Technology and the Provost's Office. It aims to develop avenues of connection and collaboration in a variety of learning environments.