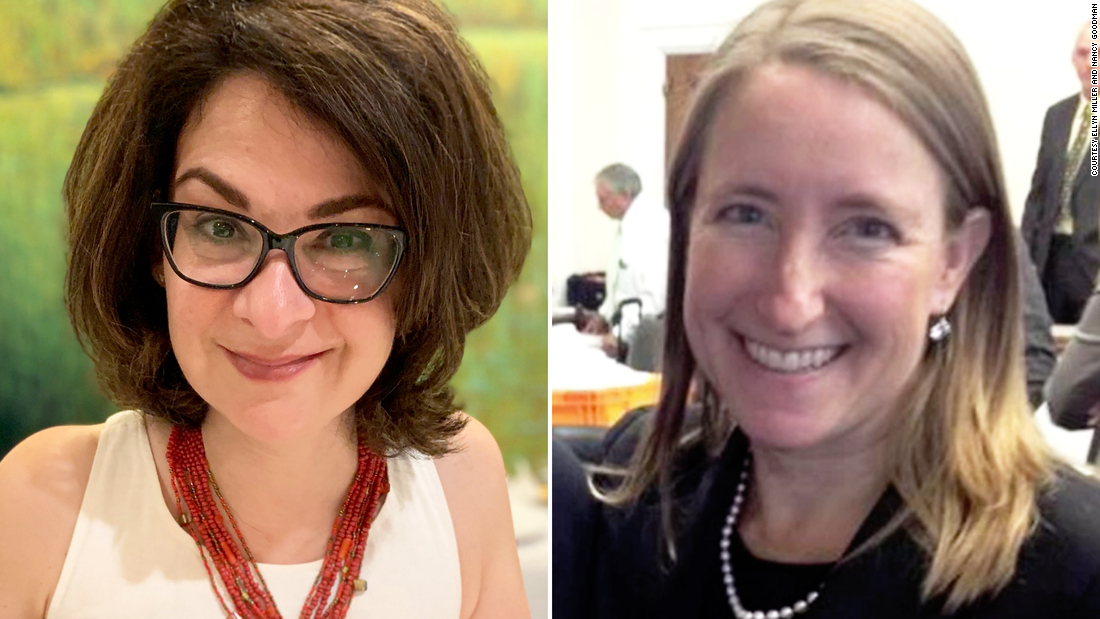 The pair couldn't be more different: Nancy Goodman, a lawyer passionate about international trade litigation, and Ellyn Miller, a real estate agent who loved her job selling new homes. But their shared experience of receiving the heartbreaking prognosis, "Your child has cancer and there's not much we can do," changed them forever. Now their lives are aligned in a powerful way on Capitol Hill as they fight for more pediatric cancer research and funding.
September is Childhood Cancer Awareness Month, and this week childhood cancer advocates descend on the nation's Capitol. There are a host of events, including the CureFest for Childhood Cancer rally on the National Mall and a summit hosted by the Congressional Biparty Caucus on Childhood Cancer on Friday. Pediatric cancer advocates, pediatric cancer survivors, families who have lost children to cancer and members of Congress will come together to discuss solutions to address the challenges surrounding pediatric cancer. CNN's KFile editor-in-chief Andrew Kaczynski will give a speech in honor of his daughter Francesca Kaczynski on Saturday at CureFest.
Goodman and Miller will be among hundreds of childhood cancer advocates this week, speaking with lawmakers and rallying on the National Mall in hopes of making pediatric cancer a national priority.
Goodman's son Jacob was diagnosed with medulloblastoma, an aggressive form of brain cancer, in 2007. He was 8 years old.
Jacob was treated with a 40-year-old chemotherapy protocol that Goodman says doctors knew wouldn't cure him, but continued "because there were no other treatments. at the time for his type of brain cancer ". When Jacob died in 2009, he was 10 years old.
Three years later, Miller's daughter was diagnosed with a brain tumor known as DIPG. Gabriella was 9 years old at the time of her diagnosis. She died almost a year later in 2013 at the age of 10. Today, the survival rate of DIPG remains close to 0%.
There have been improvements in survival rates for some types of childhood cancer, like leukemia, but there are many others, like pediatric brain cancer, that still have no cure, no treatment. efficient and dismal survival rates. While medulloblastoma affects both children and adults, DIPG is usually childhood cancer.
The two women, with no previous legislative experience, have been at the forefront of drafting the childhood cancer movement and lobbying Congress for hard-hitting legislation to increase funds for research.
Ironically, Goodman, who practiced international trade law before Jacob's diagnosis, never intended to work on Capitol Hill.
She says she always had an aversion to the subject of medicine: "I think I quit taking science in grade 10. I just wanted to be extremely clear to the universe that I wouldn't be a doctor, because I had no interest in medicine. "However, after her son's diagnosis, she said," I started reading academic scientific articles and teaching myself to read them and educate myself. on cancer biology. "
The problem was that even Jacob's scientists or oncologists didn't understand his illness. The basic reason for his death was the lack of research and effective therapies, Goodman said.
Miller stopped working when doctors diagnosed Gabriella with an inoperable tumor. Much like Nancy's son Jacob, a lack of research into Gabriella's tumor type meant she would die of her disease at age 10, Miller said.
When Gabriella was alive, she embraced the role of childhood cancer advocate. In 2013, two weeks before her death, a video of Gabriella went viral. She said to lawmakers, "Stop talking and start doing. … Talking is ** t bulls! We need action."
This caught the attention of House Majority Leader Eric Cantor. About two weeks after her daughter's death, Miller found herself on Capitol Hill in a meeting with the Virginia Republican, which wanted to name a bill after Gabriella. The bill would call for money intended for political congresses to be diverted to pediatric cancer research. Miller, still in mourning for his daughter, got to work trying to generate support for the bill among senators. Less than six months after Gabriella's death, the Gabriella Miller Kids First Research Act became law.
"To this day, I feel like his hands were on my back pushing me," Miller said, "saying," We're not done. We have some work to do. "
These two women are on a crusade to right the injustice they believe many children with cancer face, a lack of adequate investment in the study of cancer specific to them and a lack of drug development and effective and less toxic remedies.
"Despite the enormous public health impact of childhood cancer, the NCI [National Cancer Institute] devotes a small portion of its overall budget to pediatric oncology. In addition, pharmaceutical companies have limited incentives to study new treatments in children with cancer, given the relatively small potential market, "said Dr. Doug Hawkins, clinician at Seattle Children's Hospital and chairman of the Children's Oncology Group, a national cancer institute. -group of clinical trials supported.
On the day Jacob died, Goodman formed the nonprofit Kids v Cancer, and she went from a crash course in cancer biology and chemotherapy to a crash course in understanding federal law and drafting federal legislation.
She found a law firm that volunteered to help her, but she also needed to learn how to travel to Capitol Hill and how to litigate. So she found two lobbyists who took her under their wing.
Since then, Goodman has been credited with the Creating Hope Act, passed in 2012. The bipartisan law created significant incentives for the pharmaceutical industry to develop treatments and cures for children with rare diseases and potentially fatal, including cancer. Goodman can also be credited for the RACE for Children Act, passed in 2017, which requires companies that develop cancer therapies to develop their medications for children as well.
Rep. Michael McCaul, a Republican from Texas who worked alongside Goodman, said, "Nancy Goodman has been and continues to be a pioneer in the fight against childhood cancer. His past, present and future efforts have been integral to passing many childhood cancer bills. I cannot thank her enough for her endless work and look forward to continuing our mission to end pediatric cancer.
Goodman said she would unveil a new bill to lawmakers on Friday, the Give Kids a Chance Act, which builds on her previous legislation. Under this bill, companies developing drugs for adult cancer would be required to test a combination of drugs for pediatric studies. Goodman already has bipartisan sponsorship for Bill McCaul and Democratic Representative GK Butterfield of North Carolina.
The legislation would also require companies to pay for studies instead of contracting out research to pediatric oncology organizations and academic institutions with much smaller budgets.
Miller's priority is tied to the Gabriella Miller Kids First Research Act, which needs a new source of funding as it will end in 2023. In partnership with Democratic Representative Jennifer Wexton of Virginia, Miller advocates for the Gabriella Miller Kids First Research Act 2.0, which would redirect the funds generated by penalties from large pharmaceutical companies to childhood cancer research. It could amount to hundreds of millions of dollars. The bill already enjoys bipartisan support in the House and Senate.
"As tens of thousands of children battle cancer in communities across the country, the search for new treatments and cures for these diseases is woefully underfunded. That's why we need the Gabriella Miller Kids First Research Act 2.0. increase resources in the hope that no other family will have to go through the grief of losing a child to cancer, "Wexton told CNN in a statement.
The measures developed through the pain of these two women enduring the unnatural phenomenon of losing a child to a terminal illness are considered valuable assets in the community of pediatric oncology scientists, who want to cure these diseases but do not. do not have the financial backing to do so.
"The pediatric cancer research community depends on the hard work of advocates, like Nancy Goodman and Ellyn Miller, to ensure that the voice of children with cancer is represented in the federal budget and to increase incentives for the development of new drugs for pediatric oncology through regulatory requirements, "said Hawkins.
As impactful as their work has been, however, Goodman says it's not enough. There is still so much to do to transform the reality of pediatric cancer, she said, "Babies are still dying. Of course, this is not enough.