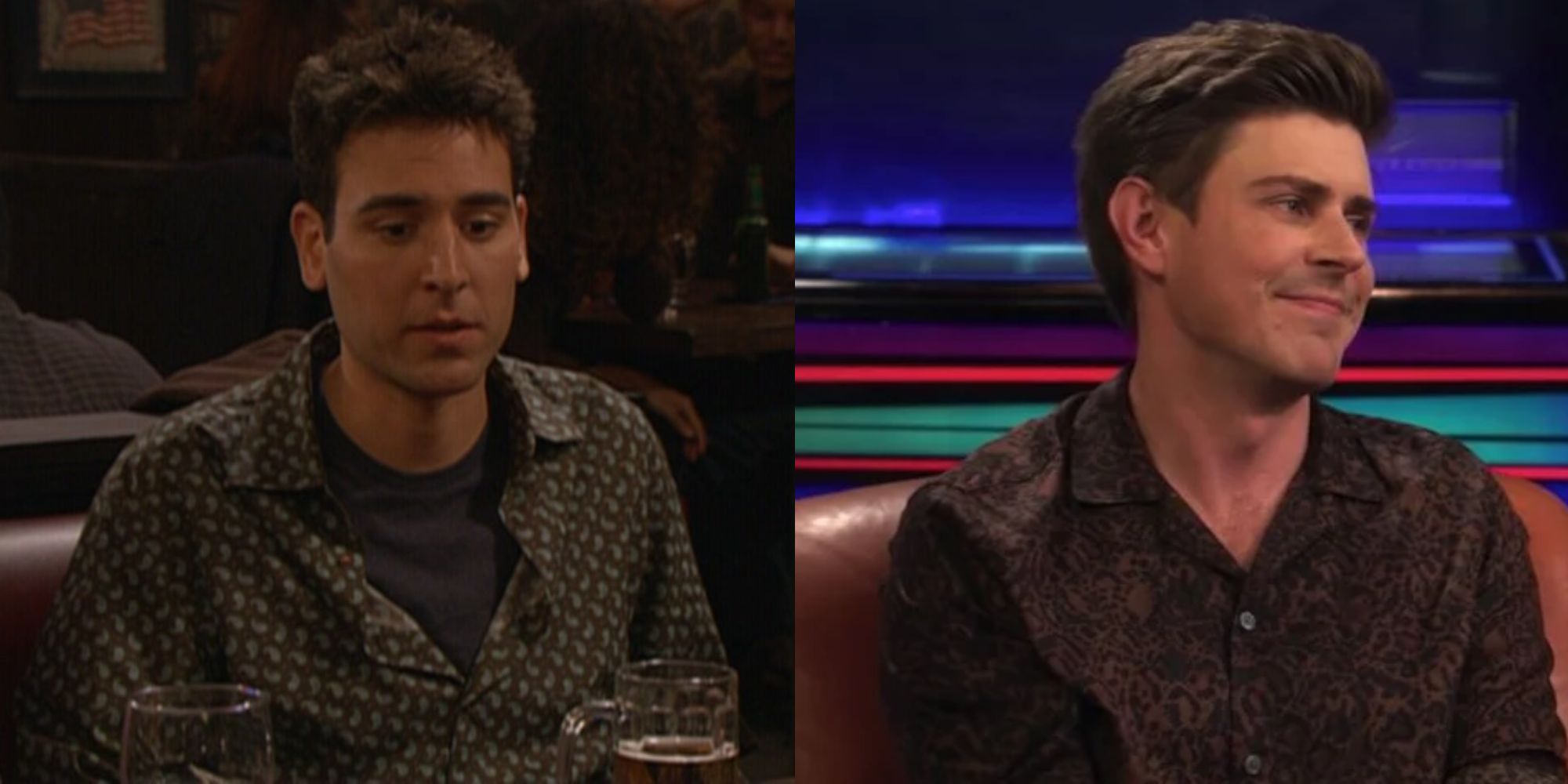 The long-awaited sequel to the fantasy how I Met Your Mother just aired its Season 1 finale. Naturally, reviews from fans and critics are split. Some fans dislike the new writing and the departure from the source material, and others are connecting with the new direction and characters. Either way, every viewer showed up to see how how i met your father would reference and compare How I Met Your Mother.
RELATED: Huh Turns Out 'How I Met Your Mother' Told Us the Mother's Name in Season 1
Aside from the general plot and setup, how i met your father doesn't share many similarities to its predecessor's world, but fans who paid attention and have extremely inappropriate knowledge of how I Met Your Mother noticed some callbacks and similarities between the shows.
Both shows kick off with a proposal
how I Met Your Mother started with Marshall (Jason Segel) practicing his proposal to Lily (Alyson Hannigan), which he will propose later. how i met your father begins the same way: Sid (Suraj Sharma) talks about his proposal plans and later, carries them out.
The theme at the heart of both shows is love. Keeping a married or engaged couple in the mix makes sense to give a unique perspective on events. The audience gets the vision of the unique characters and those who are engaged.
Goliath National Bank is still there
Barny (Neil Patrick Harris), Marshall and Ted (Josh Randor) all worked for Goliath National Bank at some point How I Met Your Mother. Marshal sells himself as a lawyer to the soulless corporation, Ted designs the new GNB headquarters, and Barney…please.
In episode 8 of How I met your father, Ellen (Tan Tran) chooses an outfit for an interview she has later. Where is she applying? The headquarters of Goliath Market. This confirms that the Goliath National Bank has expanded, and it might even be possible that Ellen starts working at the headquarters that Ted designed.
The two main couples start with friend zoning
In the first episode of the series, Jesse (Chris Lowell) almost instantly develops feelings for Sophie when he encounters her driving Uber. In the next episode, Jesse reveals to Sophie that he likes her. Sophie responds, "maybe we could be friends who are messes, instead of two messes trying to date." Most of the season continues with Sophie and Jesse in the friend zone.
how I Met Your Mother started with an almost identical situation with its main couple: Ted and Robin (Cobie Smulders). Just like Jesse, Ted instantly falls in love with Robin. Likewise, the second episode ends with the pair agreeing to just be friends. This series of repeated events is too specific not to be a direct nod.
Jesse and Sid's apartment is Ted and Marshals
Any HIMYM one worthy fan recognized the classic apartment set revealed at the end of the season premiere. Jesse and Sid bring the gang to their apartment as the traditional theme song plays. Jesse mentions that they got the apartment from an "old married couple who posted it on the Wesleyan alumni group." This is another reference as it is heavily implied that Lily and Marshal were that couple, as they are both Wesleyan graduates.
RELATED: 10 Most Shocking 'How I Met Your Mother' Twists, Ranked
Although still the same, the apartment is painted differently and has a more modern feel. The original swords also make a return. While in most backgrounds from the original show, swords are best known from Ted and Marshal's epic sword fight in Season 1, Episode 8, "The Duel."
Sophie sings almost as much as Marshall
Marshall is one of the most lovable characters ever written. up there with Joey from Friends. One of his most endearing traits is his love of singing. Marshall would do random songs and sing mundane chores. He also loves dancing which gave him the dancer's hip, but it's neither here nor there.
In the second episode of the season, Sophie sings when it is revealed that her comforting song is "Drops of Jupiter". She still sings a few times throughout the season. This lovely yet simple detail looks very Marshall inspired.
Sophie's date is a marine biologist, just like…
The show begins with a date between Sophie and Ian, a gorgeous marine biologist – wait for it! Ian recognizes how fake it seems because it's too good to be true. This is a reference to two different characters in how I Met Your Mother.
RELATED: 'How I Met Your Father': A Difficult But Promising Attempt To Step Out From The Shadow Of 'HIMYM' | Review
First, The Slutty Pumpkin (Season 1, Episode 6) is a marine biologist who travels to Antarctica to study penguins (and drink Tootsie Rolls). Second, Maggie (Season 5, Episode 10) is also a marine biologist. These two women were considered the ultimate dream girls. This shows that only an ultimate dream date would be a marine biologist.
Jesse and Ted's "cool shirts"
This one might be overkill. In episode 4 of season 1 of HIMYM, Ted is wearing a brown shirt he had forgotten about before. The brown shirt ends up giving him confidence and is referenced as a "nice shirt" the entire episode. how i met your father apparently refers to this.
Episode 2 features the gang going to a club and Jesse thinking the event is a setup for him to date, Sophie. Jesse wears a brown shirt until the date and Sophie comments on how good it looks, and like Ted's shirt, it is considered nice for the rest of the episode. If it's intentional, it's extremely subtle.
The Captain and Becky make an appearance
The most apparent connection to the original series is when The Captain (Kyle McLachlan) and his wife Becky (Laura Bell Bundy) appear (boats, boats, boats!). This duo is extremely emblematic for HIMYM; The captain's sea-themed rants helped, and Becky's boats led to some of the show's funniest moments.
The beginning of episode 9 in how i met your father begins with the Captain in bed with someone and Becky walking over them; she then apparently asks for a divorce. The scene is abrupt and is interrupted when Future-Sophie (Kim Cattrall) stops the story and says they will be more important in the future. Fans can only hope for more character revivals in future seasons of 'How I met your father'.
KEEP READING: 15 Memorable 'How I Met Your Mother' Guest Stars Who Could Appear on 'How I Met Your Father'
Images from 'The Munsters' reveal first look inside 1313 Mockingbird Lane
1313 Mockingbird Lane has never looked better!
Read more
About the Author