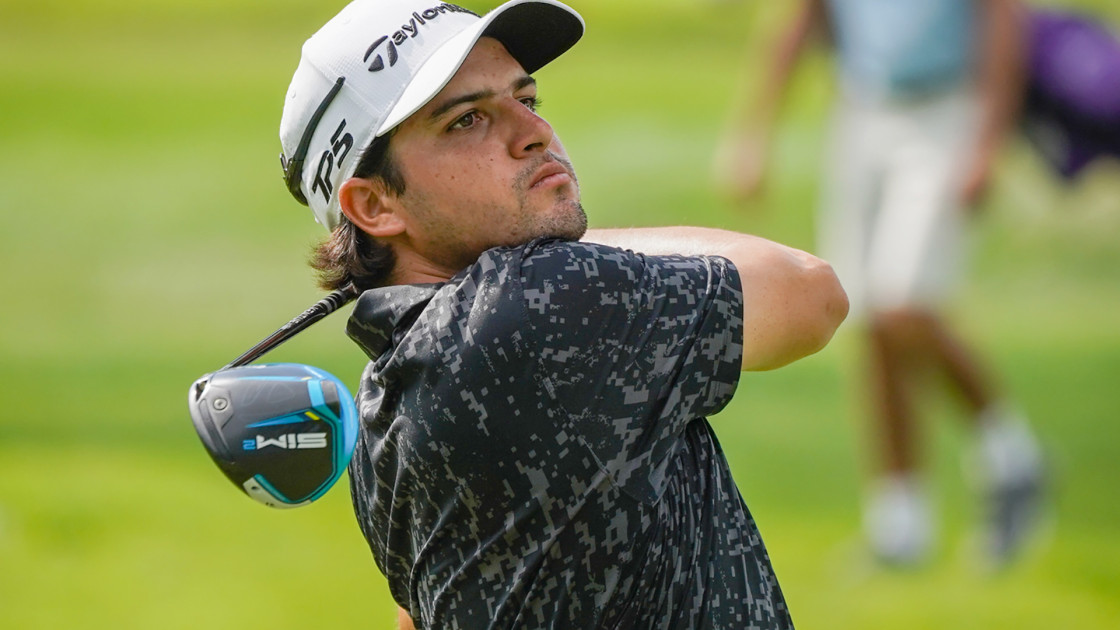 HIGHLAND PARK, Illinois. –Rising University of Arkansas senior and All-American Mateo Fernandez de Oliveira picked up a pair of wins Friday to advance to the semifinals of the 120th West Amateur Championship, played at Exmoor Country Club.
Fernandez de Oliveira, ranked #29 by the World Amateur Golf Rankings, picked up a 6&4 win over Yuxin Lin (#49 WAGR) in the Round of 16. He then beat Cole Sherwood (#22 WAGR) 3&1 in the quarterfinals.
After 72 holes of golf over three days and tied for fourth after stroke play, Fernandez de Oliveira defeated Lin, a rising senior with the Florida Gators in the morning round of 16. Lin won the first hole, but Fernandez de Oliveira tied the game by winning the second. The Razorback won holes 4 and 5 for a 2-Up lead. Lin cut his deficit in half by winning hole #7. Fernandez de Oliveira responded by winning the 8th hole to regain a 2-Up lead. He then won holes 11, 12, 13 and 14 to secure the 6&4 victory.
In the afternoon quarterfinal, Fernandez de Oliveira faced Sherwood, who was a first-team All-America with Vanderbilt last season. Fernandez de Oliveira started the match winning holes 1, 2 and 4 for an early 3-Up lead. Sherwood won his first hole with a birdie on hole 10. Fernandez de Oliveira bounced back with wins on holes 12 and 14 for a 4-Up lead. Sherwood rallied by winning the 15th and 16th holes to cut their deficit in half. However, Fernandez de Oliveira's birdie putt on the 17th was conceded to win the hole and win the match, 3&1.
Fernandez de Oliveira will face Travis Vick (#15 WAGR) in the semi-finals on Saturday morning. The winner will then play for the championship on Saturday afternoon. Please check the Western Amateur website for GOLF channel links for each round.
REMARKS:
Mateo is the only international player left on the pitch.
Mateo will appear to be the second Razorback to win the Western Open, joining 2011 winner Ethan Tracy.
For more information on Arkansas men's golf, follow @RazorbackMGolf on Twitter.