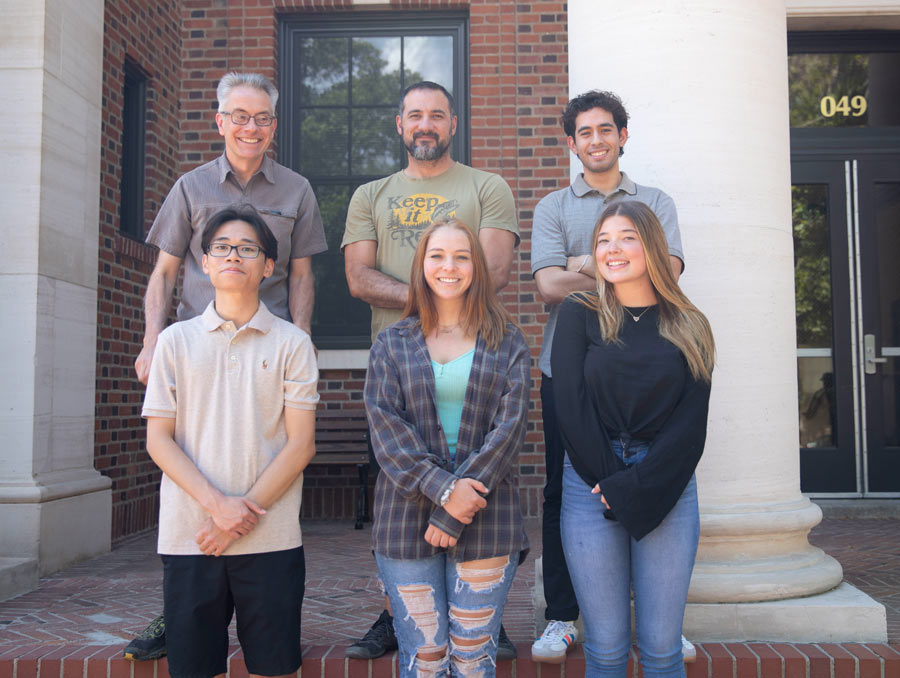 Four students make up the first cohort of undergraduate students participating in the Maximizing Access to Research Careers (MARC) Nevada program. The program, sponsored by the National Institutes of Health, is designed to help develop a diverse pool of undergraduate students completing their bachelor's degrees and transitioning into research-oriented graduate programs (Ph.D. . or MD/Ph.D. ) in biomedical sciences. The long-term goal is to develop a diverse pool of well-trained scientists.
The first cohort is made up of students Lauren Carriere, Jesus Diaz Sanchez, Jonathan Taasan and Kimberly Giannantonio. Participating MARC Nevada students will receive an annual stipend of $13,920 for their junior and senior years of college, partial tuition financial coverage, year-round research opportunities, and mentorship, among other benefits.
Professors from the College of Science and the Neuroscience Institute collaborated on the MARC grant proposal, including Institute Professor and Director James Kenyon and College of Science Associate Professor and Associate Dean Melanie Duckworth. The grant is an Institutional Training Grant, which is frequently renewed, meaning the University will likely be able to support more cohorts beyond the first five grants this year. The university hasn't had an institutional training grant in more than a decade, Kenyon said.
"If the program is able to recruit good interns and fill all the slots, and the interns are successful, there's a higher chance of it being renewed and renewed and renewed," Kenyon said. MARC principal investigators (PIs) also hope to increase the number of trainees in subsequent grants.
The program has four PIs: Duckworth, Thomas Kidd Professor of Biology, Mary Burtnick Associate Professor of Microbiology and Immunology, and Wes Chalifoux Associate Professor of Chemistry.
CPs are excited to have the opportunity to support students. Burtnick stressed that the grant will give students a chance to really immerse themselves in research before applying to graduate schools. The current cohort has already begun their summer research projects.
"For me, it's nice to have a program that's really designed for students from underrepresented groups and to give them opportunities like this to excel," Chalifoux said. The PIs also pointed out that Kenyon and the Institute for Neuroscience have done extensive work to finalize the proposal and ensure its success.
Students interested in the program can apply at the end of their second year of college. The College of Science will feature each student in this cohort in a profile on Nevada Today.